How Will the 2020 Presidential Election Affect the Housing Market?
Whether we're ready for it or not, the 2020 presidential election is right around the corner.
As if this year hasn't brought enough uncertainty, an election could be causing you to question your plans to sell your home or buy a new home.
Rocky political environments can create instability in the stock market-causing consumer confidence to drop. But the real estate market isn't rocky…it's rock solid. And delaying plans could mean you miss out on once-in-a-lifetime affordability.
To get to the heart of this, it's important to understand how the history of past presidential elections combined with today's market factors might play out in real estate this time around.
Here's what we know.
The Real Estate Market Might Slow Down-But Not for Long
Historically speaking, home sales typically slow down in the fall following the spring and summer rush. BTIG, a research and analysis company, looked at new home sales from 1963-2019 and noted an average decline of -9.8% in November compared to October.
In that same report, they noticed that this decline becomes slightly more exaggerated in presidential election years, dropping as much as -15% from October to November.
So, why the decline? BTIG attributes it mostly to do with buyers and sellers just becoming more cautious during that time.
They go on to explain, "This caution is temporary, and ultimately results in deferred sales, as the economy, jobs, interest rates and consumer confidence all have far more meaningful roles in the home purchase decision than a Presidential election result in the months that follow."
Considering the current state of real estate across the country, we can anticipate that while a slow down may occur, its effects will only be temporary. Home sales have remained strong throughout the last couple of winters, and the competitive nature of today's current market suggests this year should be no different.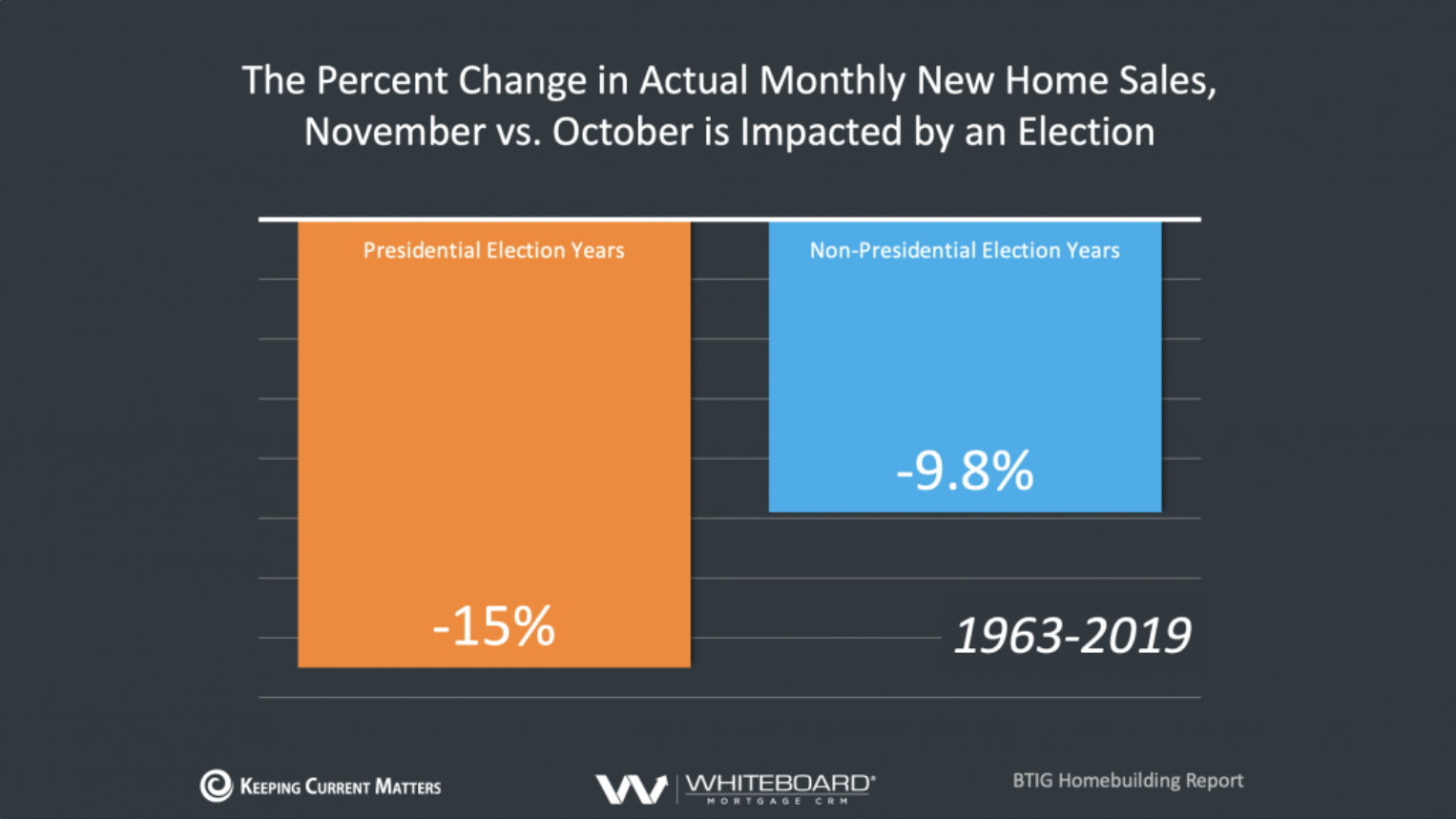 The First Year After an Election is the Best for Real Estate
While presidential election years may cause consumer weariness, another study looked at how the housing market performs after too.
Meyers Research and Zonda, a leading real estate research firm, found additional data that the year following an election can be the best of the presidential term for home sales.
According to their findings:
"In fact, the year after a presidential election is the best of the four-year cycle. This suggests that demand for new housing is not lost because of election uncertainty, rather it gets pushed out to the following year as long as the economy stays on track."
While this is definitely not your typical election year (understatement of the century), experts believe that once the election is over, we could see the real estate market perform even better in the months following.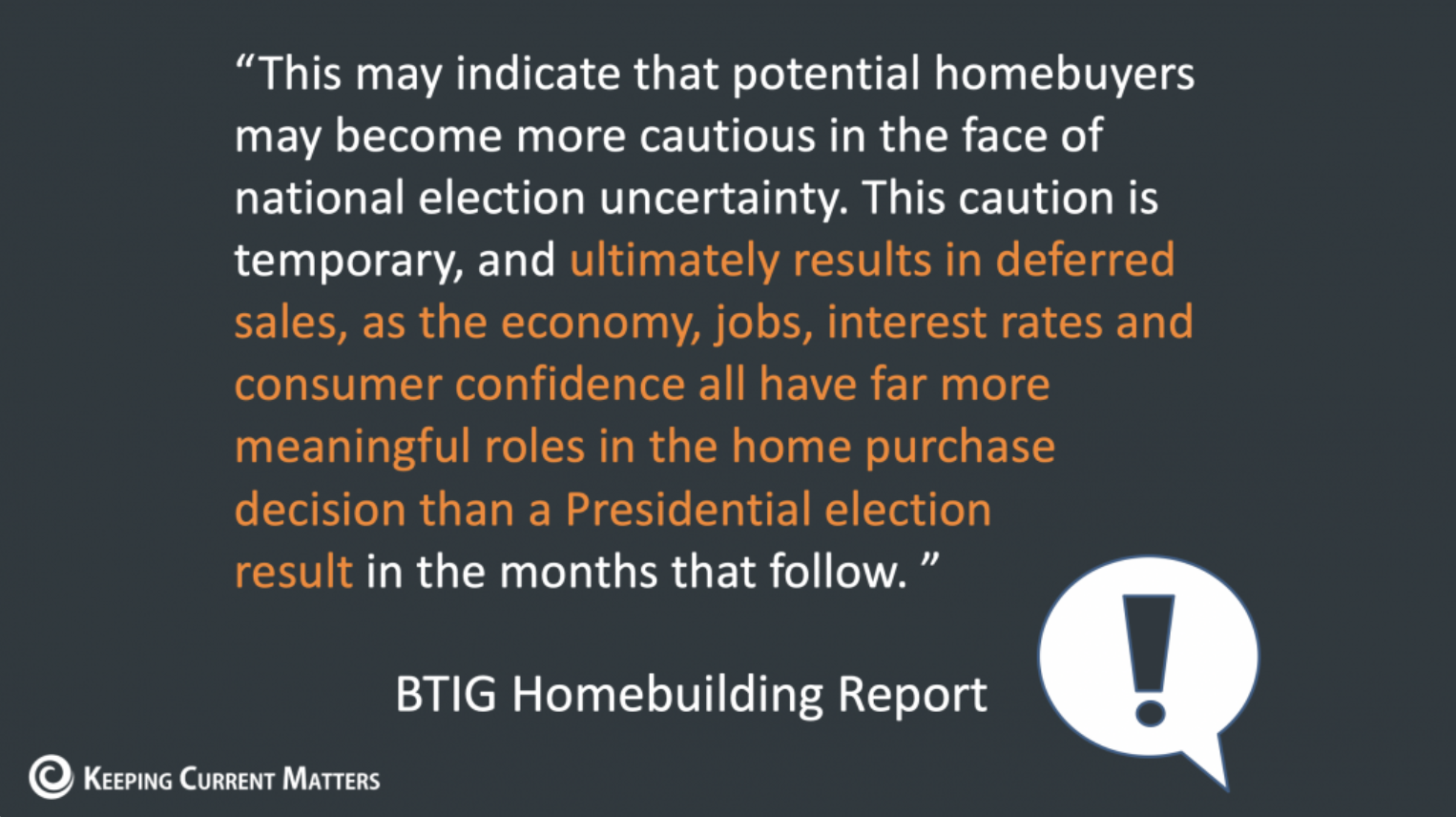 It's All About Consumer Confidence
The economy is tightly connected to politics, and real estate is tightly connected to the economy.
While many other parts of our economy have made a slow and steady recovery, the housing market's rebound was miraculous, stunning even housing market experts.
"The housing recovery has been nothing short of remarkable. The expectation was that housing would be crushed. It was—for about two months—and then it came roaring back," said Ali Wolf, Chief Economist for Meyers Research.
A big piece of this puzzle is consumer confidence. Low-mortgage rates have continued to drive once-in-a-lifetime affordability for homeowners, and buyers have been more concerned about missing out on the deal of the century than anything else.
Therefore, confidence in the real estate industry has remained relatively high, driving a record number of buyers into the market and put us in a position to potentially outperform last year in terms of the number of homes sold.
Bottom Line
While our country's overall economic state may be slowly but surely returning, the presidential election may cause consumers to watch and wait in the weeks to come.
However, as we saw with the pandemic, the reward of locking in record-low mortgage rates also may continue to outweigh any consumer caution and drive home buyers and sellers to act.
Plus, low inventory and high buyer demand puts sellers in a very powerful position.
History suggests that a slowdown in the housing market is inevitable, but this is definitely not your typical presidential election. We'll keep a close eye on what's transpiring to keep you updated.