DFW Real Estate Market Update - April 2023
What is going on with the DFW housing market?
After the first quarter of 2023, we're taking a look at what's going on with the DFW housing market. Our Dallas-Fort Worth Real Estate Market Report for April 2023 will tell you what's going on with home prices, how much homes are selling for, and how long it's taking homes to sell. Find out what all of this means if you want to sell your home or buy a home in the DFW area.
(Rather watch than read? Click on the video below.)
What are the experts saying?
The experts at the Texas Real Estate Research Center keep their eyes on the pulse (and data) of the Texas real estate market. So here's a little bit of what they recently had to say.


Mortgage rates and high inflation have definitely impacted the DFW real estate market, but maybe not as much as you might be thinking or hearing from some news outlets.
Let's talk about the four things you need to know about the Dallas-Fort Worth real estate market right now:
1. The number of new listings is generally up across the board in DFW.
What does this mean if you want to sell your house?
It means you'll have more competition, so you'll need to make sure the condition of your home and the price are in line.
What does this mean for home buyers?
You'll have a few more homes to choose from and may not have to go against so many other offers, if any.
2. The average sales price for homes has generally declined slightly from 1-4%, but up 3-4% in other areas.
What does this mean if you want to sell your house?
Since we've come out of a superheated market and are normalizing, you'll need to price your home aggressively - meaning at or just under current market value. With prices stabilizing, you'll need to stay ahead of the curve so you don't get priced out of the current market.
What does this mean for home buyers?
The good news for buyers is that home prices are no longer soaring out of control.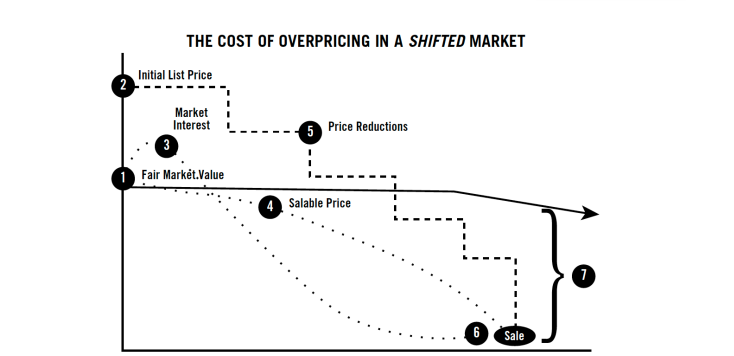 3. The percent of original list price received is declining.
Across DFW the average is about 96%. Meaning that sellers are generally receiving 96% of their original asking price.
What does this mean if you want to sell your house?
This means that sellers need to price their home carefully. Seller's getting 96% of their asking price typically means they were priced too high to begin with, and the market of buyers were rejecting their price.
What does this mean for home buyers?
You may have some room for negotiation, but we're still in a seller's market. Meaning you probably won't be able to "low ball" a seller and have your offer accepted. If you love the house and it's priced at market value, put in a fair offer to avoid the risk of it getting snapped up by someone else.
* Now, let me warn you, this is an average. I'm still seeing some homes that are getting multiple offers and going at or above list price.
4. The days it takes to sell a house has increased.
It's taking roughly 50 days to sell now, versus around 20 days this time last year.
What does this mean if you want to sell your house?
You may have to have a little more patience than you did back when you had offers in the first 24 to 48 hours (2020-mid 2022).
What does this mean for home buyers?
For buyers, it means many homes will be on the market a little longer for you to make your decision. However, if it's a great home, it will still have multiple offers quickly. The show stopper homes are still going fast and for top dollar.
One thing is for sure, we're in a shifting market and things are constantly changing. If you need expert help navigating this market to either buy or sell a home, reach out. We'll be glad to help. Schedule a time to talk
You'll feel great about having the right information and guidance so that you can make smart decisions and have peace of mind when deciding whether to buy or sell your home.