DFW Housing Market Forecast 2023
What is going on with the DFW housing market?
After a crazy 2022 in the real estate market, people are wondering where home prices are headed and whether it's still a good time to buy or sell in the DFW area.
Well, we're talking all about what's in store for the Dallas housing market in 2023 in our latest blog post. Buckle up!
(Rather watch than read? Click on the video below.)
Documentation beats hear-say
With the super aggressive mortgage interest rate hikes, inflation and the housing demand dropping after an overheated market for 2 years, it leaves a lot of people wondering what's next.
We've spent hours researching the data and trends nationally and locally. And let me tell you, the "experts" are all over the board on their predictions. And I will caution you on where you get your news from, as some of the local and national media reports I've read are WAY off the mark with the information they're reporting and the sources they're using. I recently read a major newspaper in Dallas stating that we had now entered into a buyer's market. I'll share with you later why that's not true for every area in DFW.
Setting the Stage: Demand, prices and interest rates
So, the big question is, what's happening with home prices in the Dallas Fort Worth market? Are they dropping? If so, how far will they drop?
To answer that question, let's first talk about 2022 and the housing demand.
In January of 2022 we started the year off with little to no inventory of houses on the market for sale, and we had a crazy amount of people flocking to the DFW area. Home builders were building as fast as they could go while dealing with supply issues. And corporate investors were buying as fast as they could with cash, competing against individual home buyers. We had lots of demand for houses with not enough supply. This created the crazy multiple offer situation and huge, unsustainable pricing increases. To the point that home sellers were getting on average 7% over their asking price. Some were even getting six figures over list price!
Then in June of 2022, the mortgage interest rates made a huge jump to the highest levels we haven't seen in years. They went from around 3% in January up to over 7% in early November. Mortgage rates more than doubling in a calendar year has never happened before. With home prices at an all-time high, and mortgage rates rapidly increasing, about one-third of the home buyers were no longer able to buy. Fewer ready, willing, and able home buyers meant that demand for housing cooled towards the third and fourth quarters of 2022. We saw a slight uptick in demand again mid-November and December when mortgage rates took their largest dip in 41 years on November 17. That was followed by additional drops over the next two weeks, putting rates at their lowest level since September. We ended the year with rates hovering around 6.5%. Now, to put this in perspective, 6.5% is still below the average mortgage interest rate of 7.76% over the last thirty years. (Check out the graphs below.)
During this time, home builders were steadily continuing to build homes, which allowed for more inventory. More inventory and fewer home buyers caused the crazy multiple offer frenzy to slow down or stop in most markets. So rather than the sellers getting around 107% of their asking price on average, they came down to averaging around 96% - 97% of their asking price. Sellers were starting to realize that they could no longer put a crazy high price tag on their home and actually sell it at that price. It felt like the market took a hard shift overnight, but what we began seeing is that the market was leveling off or correcting, and going back to a pre-COVID market.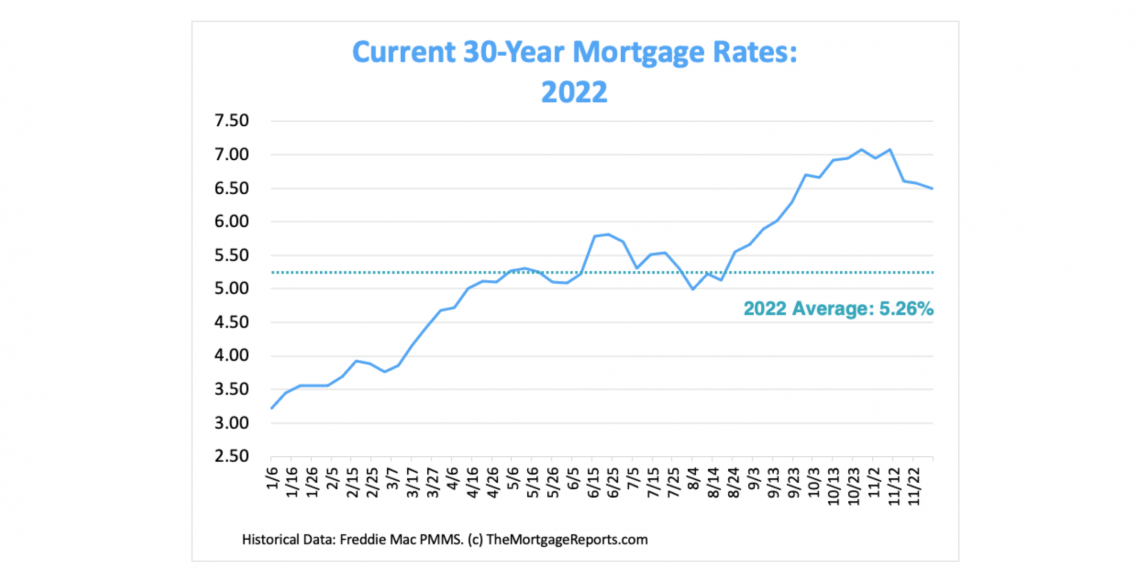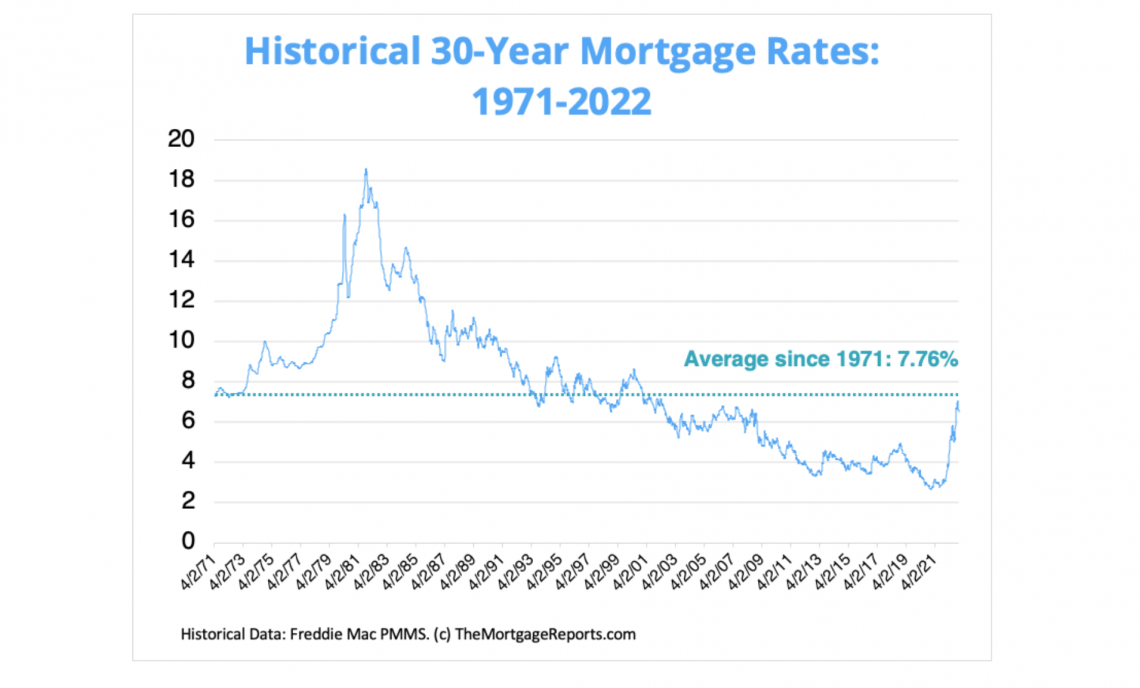 Getting perspective
To better understand the real estate market and home prices, check out the graph below.
I'm using Denton County numbers, but you could plug in any area in the DFW metroplex and see similar results. You can see the natural ebb and flow of the real estate market each year, where it goes up in the spring and summer, then back down. But notice something…prices have gone up over the past 10 years. To prove this point, look at each January over the past ten years.
Now, for you who may be concerned we're headed for a recession or a big housing crash. Let's look back to the big 2008 recession. This was said to be one of the biggest recessions since the great depression. Again, using Denton County numbers (see 2nd graph below), home prices dropped just over 3% from 08 to 09, then went up about 8% in 2010, then back down by about 5% in 2011. So prices in 2011 were back at the same prices we saw in 2008. The people that got hit so hard were unfortunately those that either could no longer make their monthly mortgage payments or had to sell and had no equity in their home, so they either had to bring money to the closing table, or let the bank have it. Typically those that had no equity in their homes were people who had zero down home loans and had rolled their closing costs in on top of their home loan amount.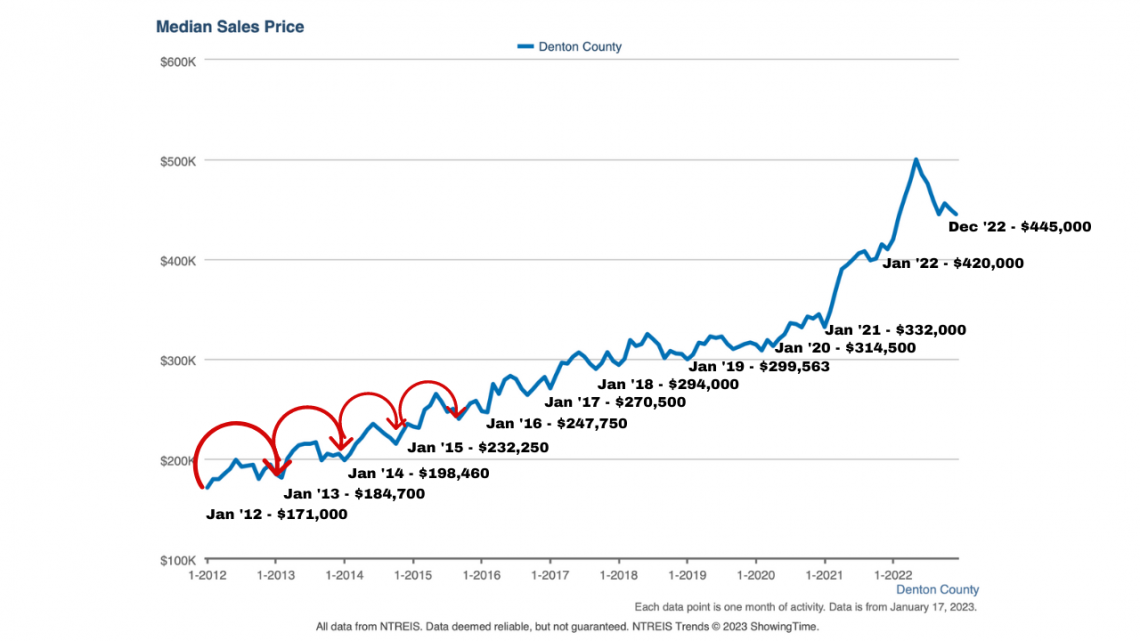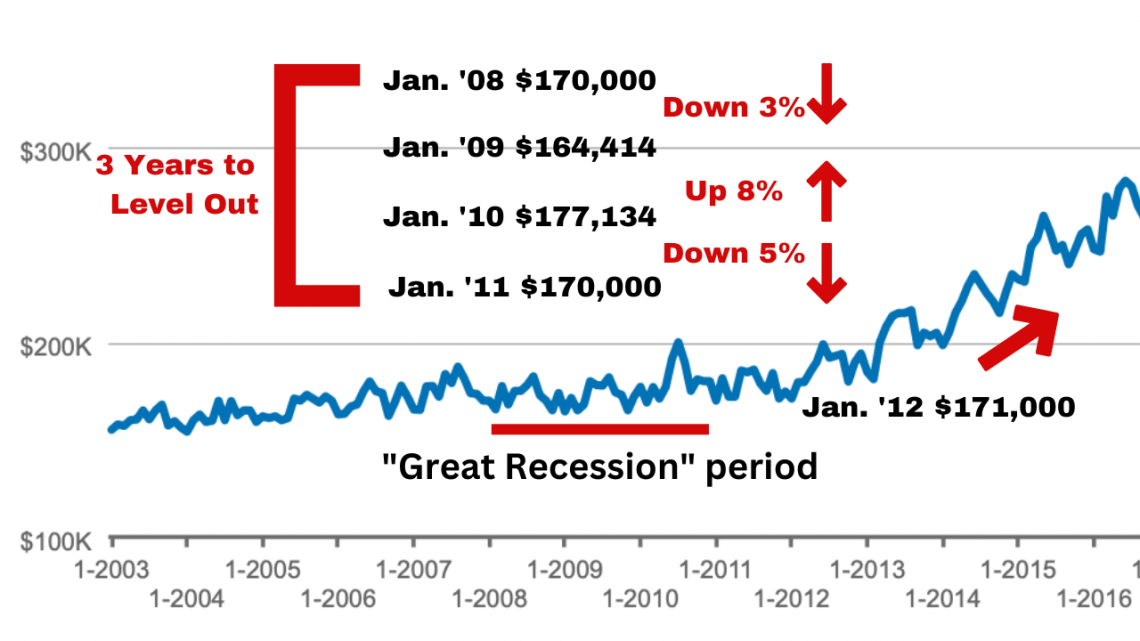 Where are home prices headed in 2023?
The graph below shows the latest home price forecasts nation-wide for 2023. As the different colored bars indicate, some experts are saying home prices will appreciate next year, and others are saying home prices will come down. But again, if we take the average of all the forecasts (shown in green), we can get a feel for what 2023 may hold. The truth is probably somewhere in the middle. That means nationally, we'll likely see relatively flat or neutral appreciation in 2023. As Lawrence Yun, Chief Economist at the National Association of Realtors (NAR), says:
"After a big boom over the past two years, there will essentially be no change nationally . . . Half of the country may experience small price gains, while the other half may see slight price declines."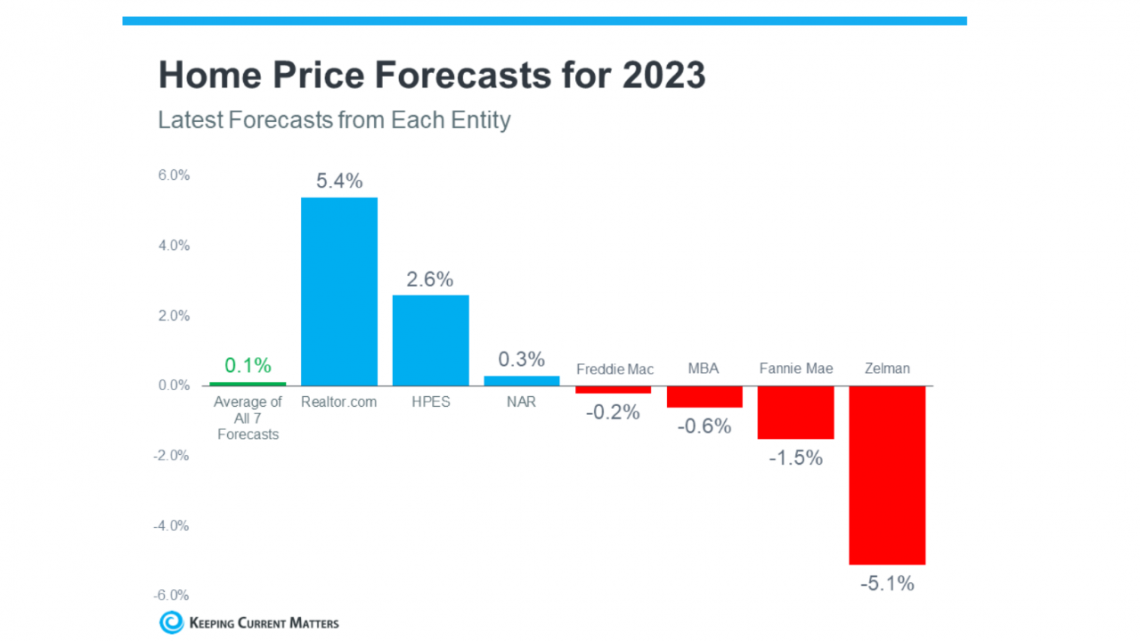 What about DFW home prices?
So, here's our big bold claim....we believe that the Dallas Fort Worth area will see decelerated growth with some small price gains.
And here's why - supply and demand.
I'll back this up with three points of data.
First, large numbers of people will continue moving to DFW, either for job opportunities, to be near family that has moved here recently, or simply because of the lifestyle offered.
DFW has recently been ranked as the 5th fastest growing metro area. In the last couple of years, 27 companies, including Charles Schwab, Deloitte, JP Morgan Chase, Liberty Mutual, McKesson, State Farm, and Toyota have either relocated or significantly expanded their operations in the DFW area. And this will continue, even if at a slower pace.
The Dallas Fort-Worth Metroplex ranks in the top 10 of the world's most innovative cities, which is attracting more telecommunication and software companies.
Caterpillar recently announced that it will be moving its headquarters to Irving, Samsung has leased over 670,000 square feet of space in Fort Worth for a new shipping hub and JCPenney plans to bring nearly 2,000 employees back to the Plano headquarters it left during the pandemic, per the Dallas Morning News. And Goldman Sachs is in the process of designing a huge office tower near Victory Park that will house around 5,000 employees as part of its expansion outside of New York City.
The North Central Texas Council of Governments is predicting the DFW population to grow by 17% by 2030. And global commercial real estate services company JLL forecasts that the 7.8 million people that currently call the DFW metroplex home, could easily increase by 2045 by 3.4 million people.
The Metroplex saw 6.5% job growth in the year ending in October of 2022, while larger metros like LA and New York saw 4.3%, according to JLL's latest DFW Resiliency report.
Secondly, mortgage rates are tied to inflation. If inflation is high, mortgage rates will be as well. But if inflation continues to fall, mortgage rates will likely respond. The good news is that we've seen the rates decline at the end of 2022, and into 2023.
Just last week, Lawrence Yun, National Association of Realtors economist wrote,
"Inflation has been coming down. Mortgage rates will also, therefore, come down. The latest consumer price index of 6.45% in December is in the sixth consecutive month of deceleration after peak inflation of 9.1% in June 2022."
As many experts factor all of this into their mortgage rate forecasts for this year, and if we average those forecasts together, experts say we can expect rates to stabilize a little more in 2023. Whether that's between 5.5% and 6.5%, they aren't certain. But based on the average of their projections, a more predictable rate is likely ahead. I can tell you that the days of 3% mortgage interest rates are gone for a while. So, if you're holding out for anything below 5%, you could be waiting a long time. But with home prices leveling out and mortgage rates stabilizing below 7%, many homebuyers are likely to reset their expectations and re-enter the market.
Lawrence Yun also wrote that:
"The 30-year mortgage rate dropping under 6% is now a distinct possibility. The gate is beginning to open for homebuyers who got shut out in October and November when the rates went above 7%. However, there is still a housing shortage and not enough listings."
Third, we're in agreement with Yun as to seeing that there will continue to be a housing shortage in the DFW area as well. Even though we've seen a large number of homes come on the market, we're still below the inventory needed to accommodate the number of people moving here. There are a few reasons for this.
According to the National Association of Realtors Housing Shortage Tracker, the Dallas Fort Worth area is still considered to have a high housing shortage. The Housing Shortage Tracker computes how many permits are issued for every new job in 174 metropolitan areas. (See graph below.)
Based on the historical average, 1 permit is issued for every 2 new jobs. However, that is not the case for many metro areas, including DFW. The Dallas metro area is at 1 permit per every 5 new jobs. That puts us way behind.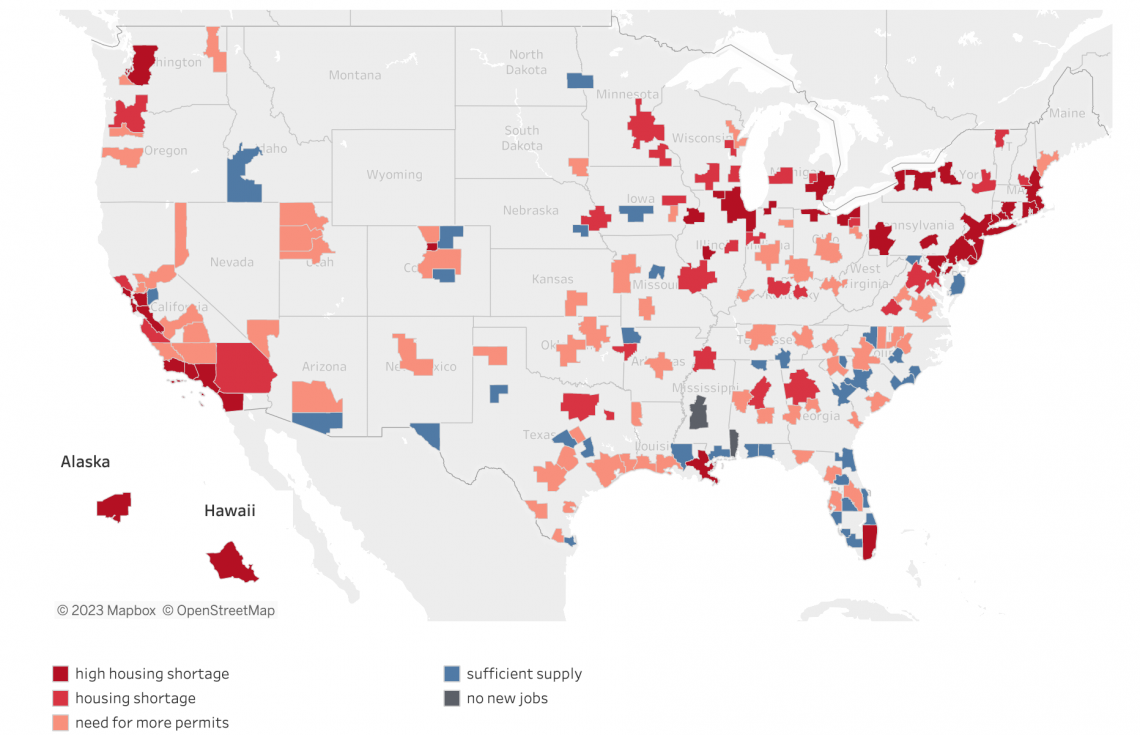 What does this mean for home sellers in DFW in 2023?
Well, for sellers, we're still in a seller's market because of low inventory currently. Which means that you still have negotiating power. We haven't gone into a buyer's market yet.
However, if you want to ensure your house sells, be prepared to price your house within the market and keep a constant eye on what's happening in your local market - meaning what homes are coming on the market, what has gone under contract, and what is selling.
Be prepared for it to take a little longer than 24 hours to sell your home. A great agent will know how to navigate a shifting market and help you place yourself strategically to find the right buyer. Smart sellers are taking the time to prepare their home to sell, as well as offering incentives to potential buyers, such as closing cost assistance or money to buy down interest rates, depending on the price point.
There are many strategies to get your home sold for top dollar in this market, just make sure you have the right professional to guide you.
What does this mean for home buyers in DFW in 2023?
Now, for home buyers, even though we're still in a seller's market, you can now negotiate more than you could a year ago. You'll be able to have contingencies again for more protection. And you may even be able to have the seller's help with closing costs or interest rate buy-downs.
There will still be competition for great houses, so be ready before you go shopping. Get with a reputable mortgage lender to find out how much house you can afford. Again, it's important to work with professionals who understand this shifting market. Great lenders can help you put together a mortgage package that best suits your budget and they know how to be creative within the boundaries required. Set your limits and don't go over what you can comfortably afford.
A word of advice, if you think you'll just wait to see how much home prices will go down, be careful. It's tough, if not impossible to time the market. Remember it's not all about the price of the home, but also the interest rate. You can still get a good deal out there. Just get educated by a real estate professional that understands your needs and wants, along with how to succeed in getting the right home in this market.
We're Here to Help
Real estate is local. Each market is different. If you need help navigating this market and knowing how to save time and money, reach out, because that's what we're here for. Schedule a time to talk
You'll feel great about having the right information and guidance so that you can make smart decisions and have peace of mind when deciding whether to buy or sell your home.