Is the Dallas Real Estate Market Headed for a Crash in 2022? Dallas - Fort Worth Real Estate Market Update
Where is the real estate market headed for the rest of 2022? Is the Dallas real estate market headed for a crash?
There's no doubt that the real estate market is changing.
And If you're following the news, all of the headlines about conditions in the current housing market may leave you with more questions than answers.
Is the boom over? Is the market crashing or correcting?
Here's what you need to know.
Where We Are
The housing market is moderating compared to the last two years, but what everyone needs to remember is that the past two years were record-breaking in nearly every way.
Record-low mortgage rates and millennials reaching peak homebuying years led to an influx of buyer demand.
At the same time, there weren't enough homes available to purchase thanks to many years of underbuilding and sellers who held off on listing their homes due to the health crisis.
This combination led to record-high demand and record-low supply, and that wasn't going to be sustainable for the long term.
The latest data shows early signs of a shift back to the market pace seen in the years leading up to the pandemic – not a crash nor a correction.
Home Showings Then and Now
Let's look at another indicator of the market - home showings.
The ShowingTime Showing Index tracks the traffic of home showings according to agents and brokers. It's a good indication of buyer demand.
Here's a look at that data going back to 2019 (see graph below):
The 2019 numbers give a good baseline of pre-pandemic demand (shown in gray).
As the graph indicates, home showings skyrocketed during the pandemic (shown in blue).
And while current buyer demand has begun to moderate slightly based on the latest data (shown in green), showings are still above 2019 levels.
And since 2019 was such a strong year for the housing market, this helps show that the market isn't crashing – it's just at a turning point that's moving back toward more pre-pandemic levels.
Existing Home Sales Then and Now
Headlines are also talking about how existing home sales are declining, but perspective matters.
Here's a look at existing home sales going all the way back to 2019 using data from the National Association of Realtors (See graph below):
Again, a similar story is shown.
The pandemic numbers (shown in blue) beat the more typical year of 2019 home sales (shown in gray).
And according to the latest projections for 2022 (shown in green), the market is on pace to close this year with more home sales than 2019 as well.
It's important to compare today not to the abnormal pandemic years, but to the most recent normal year to show the current housing market is still strong.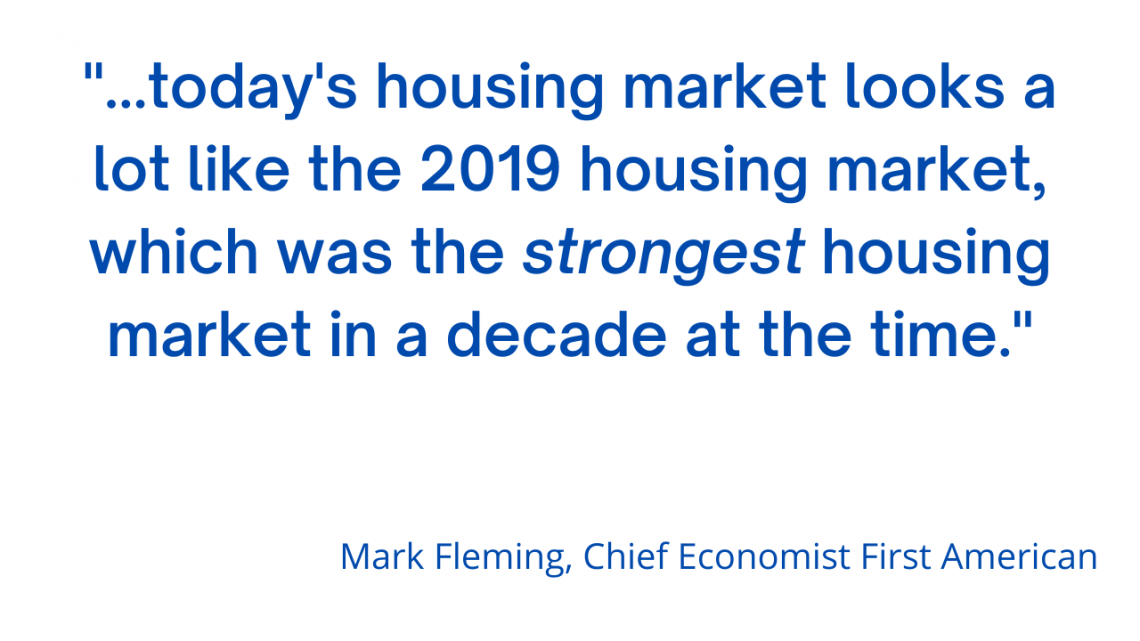 Looking specifically at Texas and the DFW area, Economists at the Texas A&M Real Estate Research Center stated, "While the national demand for housing declined marginally, demand in Texas accelerated, increasing the total home sales by 3.4% in the first quarter of 2022.
With Dallas seeing the most growth in new homes above $500k.
When looking at the possibility of foreclosures in our market, the US Census Bureau's Household Pulse Survey showed that the share of Texas homeowners behind on their mortgage payments jumped 3 percentage points to 7%. While the DFW area stayed unchanged at 4%. (See graph below).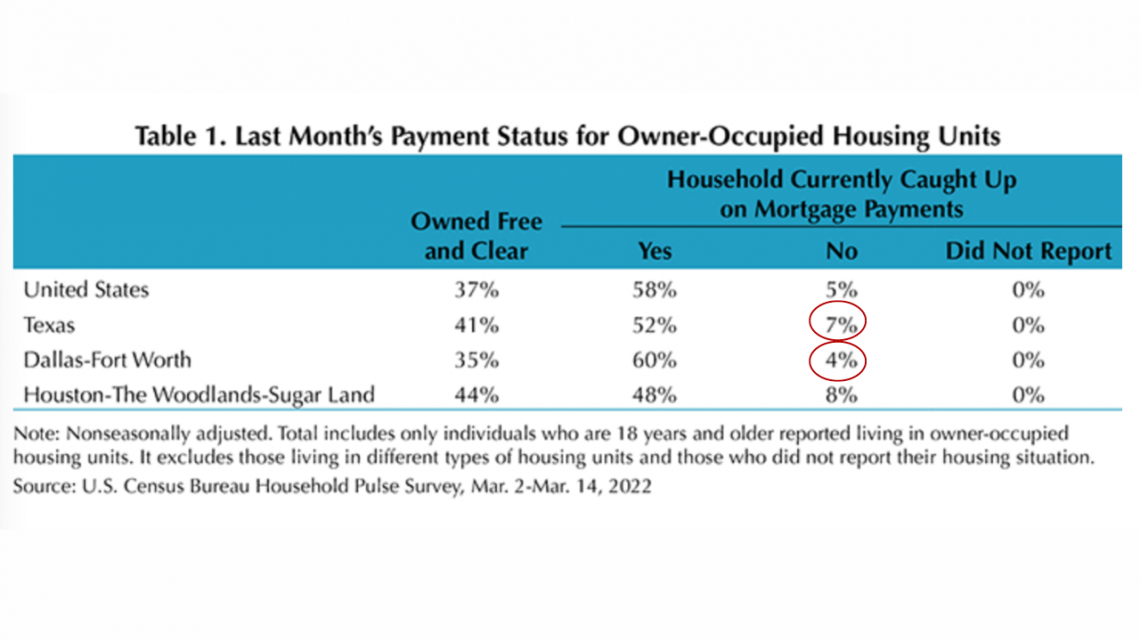 What Does All of This Mean for You?
The bottom line is this - the current market is not a crash or correction.
It's just a turning point toward more typical, pre-pandemic levels.
What does all of this mean for home buyers?
Interest rates and home prices will continue to rise, so the sooner you buy, the better.
Mortgage rates are now anticipated to hit 5.5 to 6% by the end of the year.
The good news is that you will have more homes to choose from and a little less competition for the same home.
And for home sellers?
It's expected to remain a seller's market, but you will also likely need to adjust your expectations as you may not receive the windfall we've all grown accustomed to in the past couple of years.
The crazy bidding wars, offers of tens of thousands of dollars over your asking price, and lots of buyers willing to waive just about every contingency might not materialize.
Buyers are now struggling with higher prices and mortgage rates, so they might have less money to put towards a home than they would have just a year ago.
One thing is for sure, this market is constantly changing. Don't try and go it alone. Reach out to us by phone or email and we'll be glad to help guide you through the process.
If you have any questions about the real estate market, let's schedule a time to talk. I'm here to help you navigate this market so that you can make smart decisions and have peace of mind.