Are Dallas home prices dropping? Should I wait to buy a home in Dallas Until 2023?
Are Dallas home prices dropping? Should you wait to buy a home in the Dallas Fort Worth area until next year?
So, if you've been following any news headlines lately, you might think the sky is falling. Inflation is soaring, mortgage interest rates have skyrocketed, and it appears that the Dallas Fort Worth real estate market is headed for a crash!
We're in unprecedented times for sure.
And we completely understand the fear and uncertainty many families may be feeling right now in wondering if home prices will drop, if mortgage interest rates will come down, and if they should just wait to buy a home in the Dallas area until next year.
We were in the real estate industry back in 2008 and 2009 during the great recession. So when we saw the houses sitting on the market a little longer with price reductions back in June of this year, we knew things were changing.
(Rather watch than read? Click on the video below.)
The Real Estate Market Can Change FAST
Most people don't realize just how quickly things can change with real estate. When the market shifts, it takes a little while for people to catch on.
First, you have the real estate agents. And if they've never been through a market shift, they don't know what's going on or more importantly, how to guide their clients through it.
Then you have the home sellers and home buyers. Anyone with their home on the market with a top dollar price tag expecting to get multiple offers all over list price within the first few days on the market were suddenly wondering why they weren't getting a line of people at the door ready to battle it out.
And home buyers were slowly realizing they could actually start asking for some contingencies again to give them a little more time and protection, making sure it was the right home for them and their family.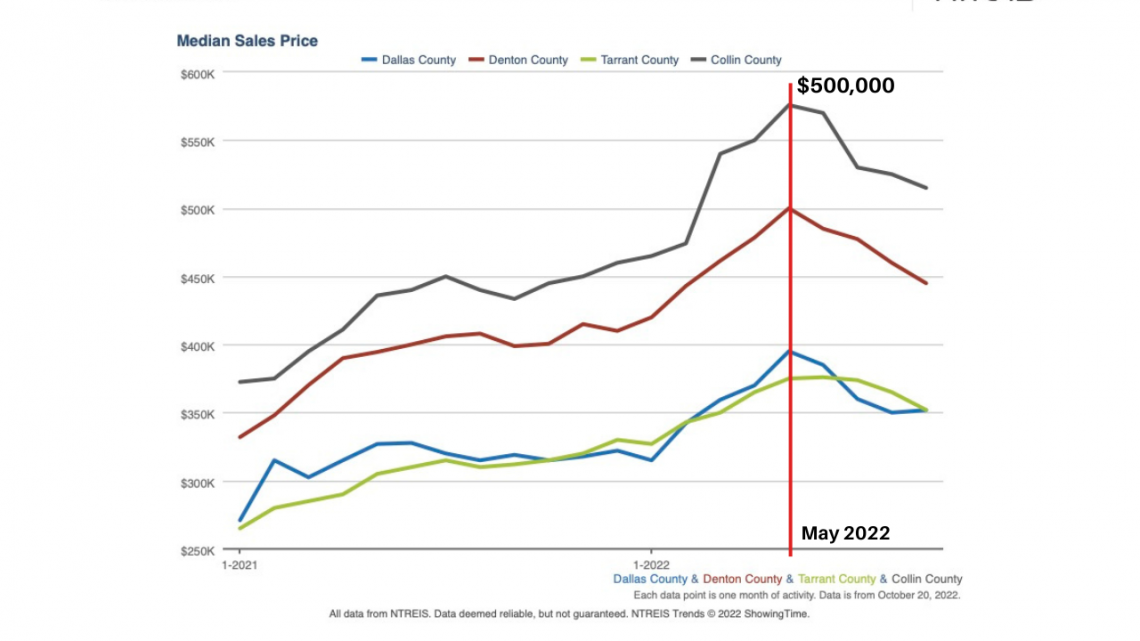 Home Prices in Dallas-Fort Worth
As you can see by the graph above showing each of the four main counties in the DFW area, the median home price in Denton County was at $500,000 in May, then dropped to $485,000 in June and has continued to drop since then.
So those home sellers that put their home on the market in May or June, pricing it to sell at the height of the market, still expecting to get multiple offers all over their asking price in just a few days were suddenly faced with no offers and having to reduce their asking price.
And as the market continues to shift, those home sellers are trying to figure out where to price their home so it will sell. This is why we are continuing to see some price reductions. (See the graph below.)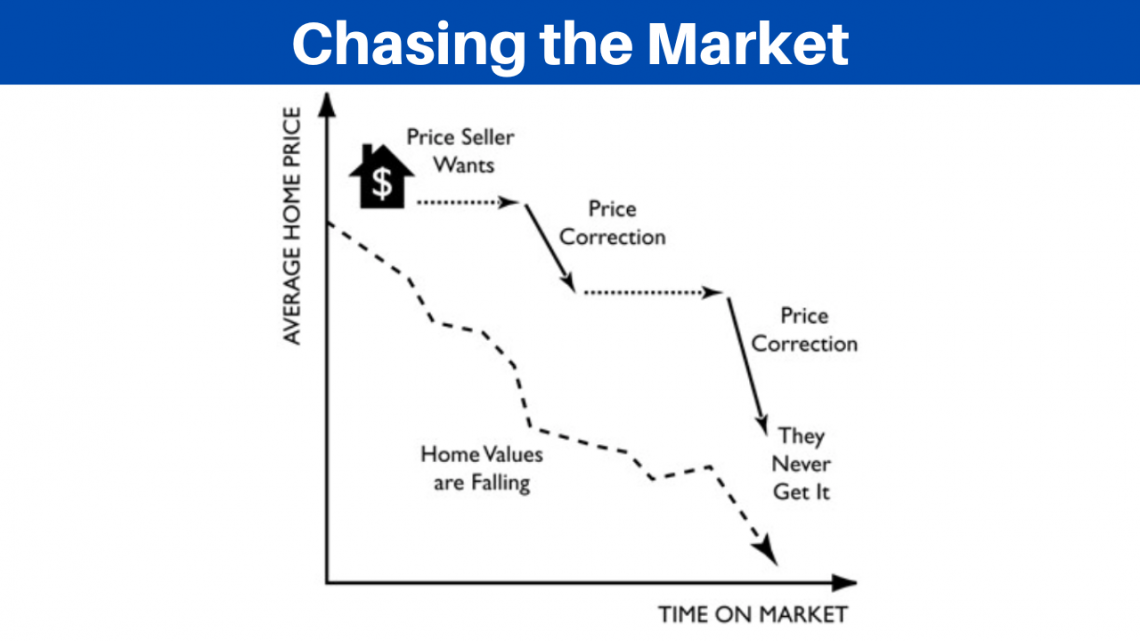 Are All Home Prices Falling?
Prices falling for all of Dallas Fort Worth just isn't the case for every home in every city.
Like this one in Flower Mound below. It went up for sale in September, had multiple offers, and sold for $40,000 above their asking price within 4 days.
Now, this home was completely updated inside and out. Show-stoppers that are move-in ready will always go fast and command a high price.
(Photos courtesy of NTREIS.)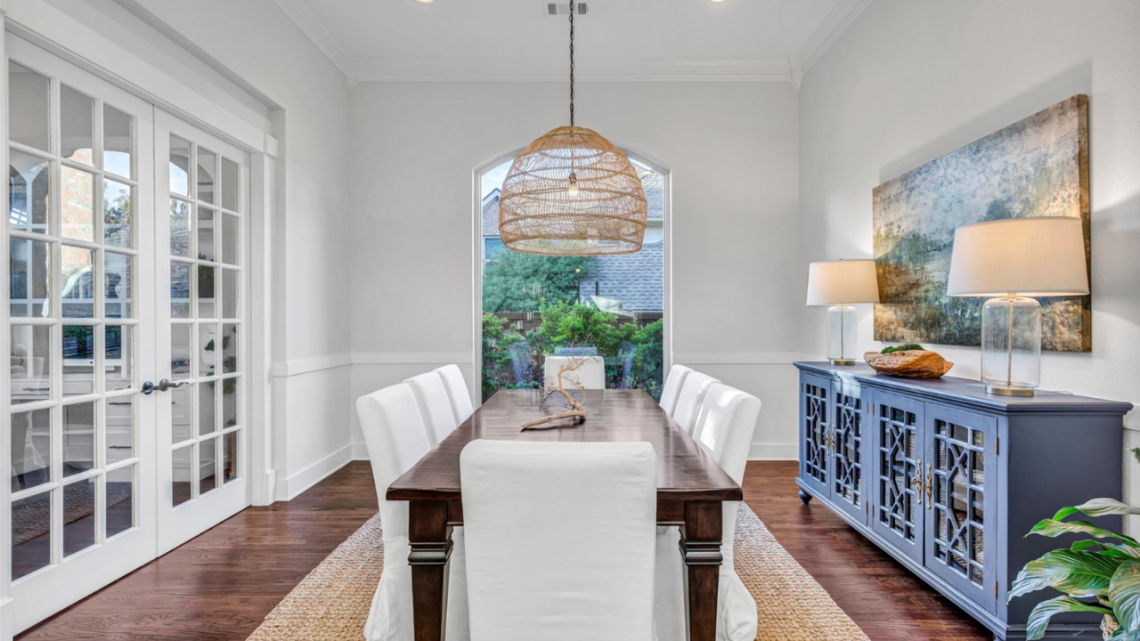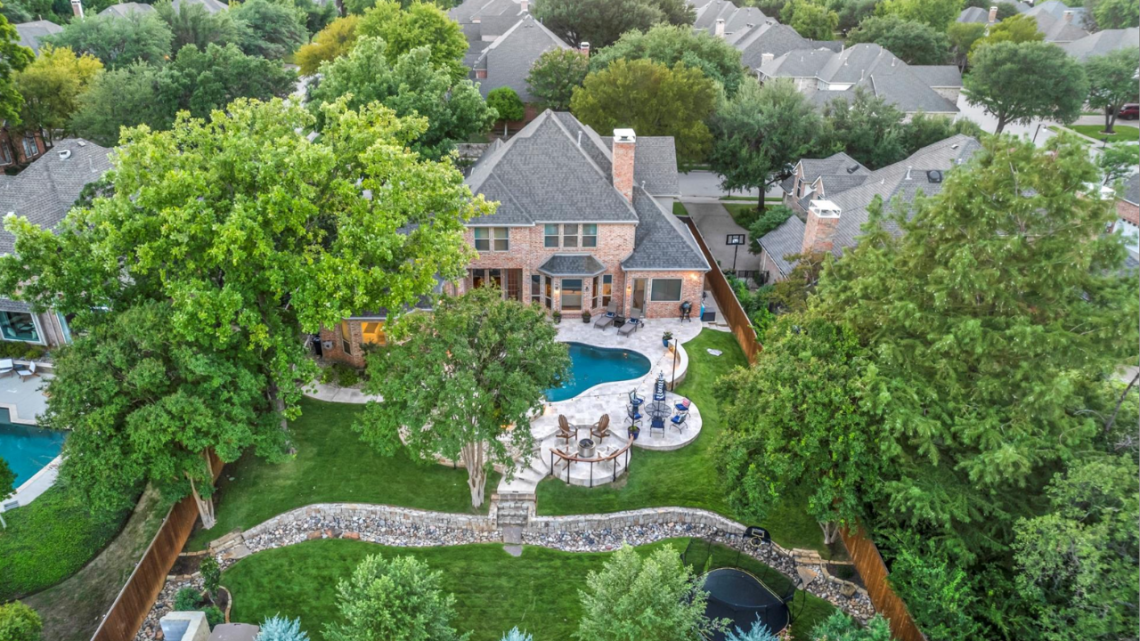 How Far Will Prices Fall?
Let's shift gears a little and get what I like to call a 30,000 foot view.
When we look at the median home prices over the last 10 years, this gives us some real perspective. (See graph below.)
Overall, home prices have continued to increase. The pandemic years really threw us a curveball. All the "experts" said the real estate market would crash. And the opposite happened. You can see that those pandemic years changed the normal rise of home prices.
But as you look at the price line coming down from the peak in May of this year, how far do you think it will continue to go down?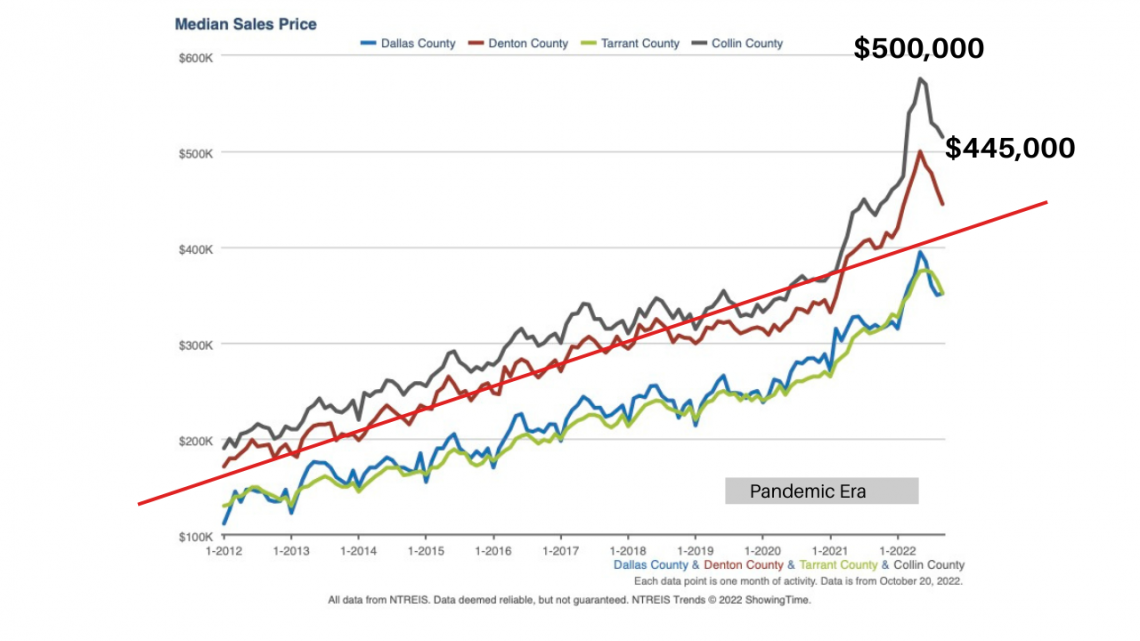 Supply and Demand
What adds to this story is the supply and demand issue.
Let's look at how many homes are available. Looking back all the way to 2007, the graph below shows that during the great recession, the supply of homes was at a peak of over 50,000 in the Dallas Fort Worth area.
We are currently sitting at just under 20,000 homes available. Which is under the average of over 25,000.
DFW is still the 8th fastest growing metro area. The US Census shows that from July 2020 to July 2021, Fort Worth alone gained almost 13,000 in population.
With the Dallas area still growing, and the inventory of homes available still low, it begs the question, "how much lower will home prices go?"
As we are coming out of the crazy pandemic real estate market, it appears that we may be moving into a more normal market. Meaning, what the market looked like before everybody decided to move to Dallas all at one time.
So, are home prices dropping in Dallas? Yes. For now. But for how much longer?
As you can see by the median sales price graph above, pricing goes up and down, and you never know when it will shift.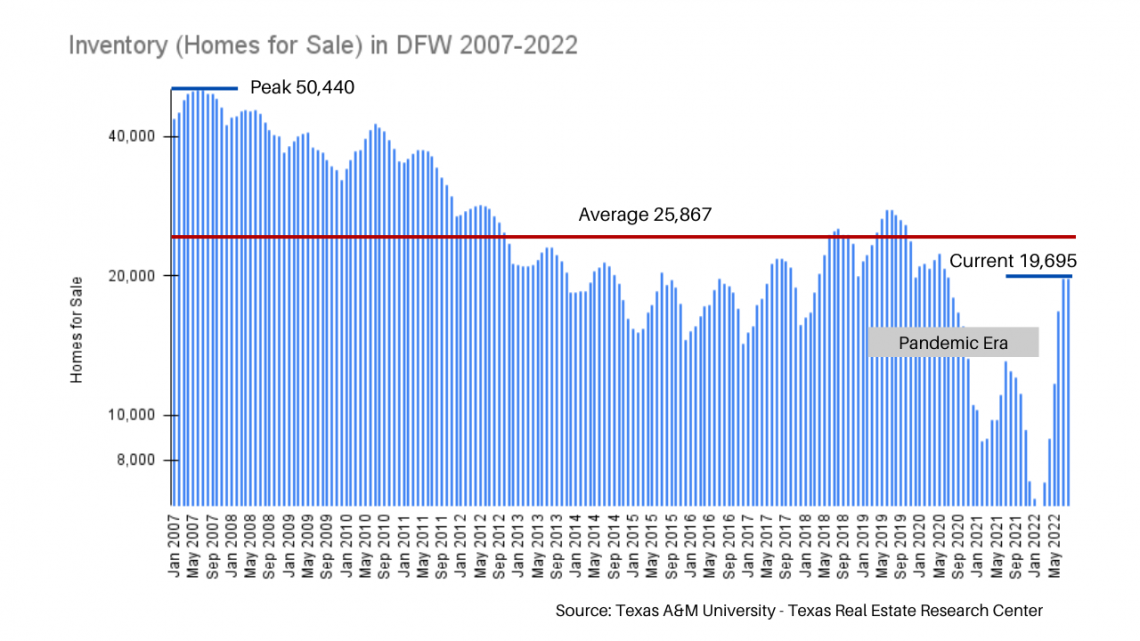 Should You Wait Until 2023 to Buy a Home in Dallas?
So, should you wait to buy a home in Dallas until next year?
If you're getting a mortgage for your next home, mortgage rates can be a big factor in how much home you can afford. If you look at the current 30-year mortgage rates from just this year in the graph below, they started out at around 3%, and are currently hovering around just over 7%. That seems high.
But when we look at the historical data all the way back to 1971 in the second graph below, you can see that we aren't even at the average mortgage rate of 7.76%.
So if home prices continue to drop, and interest rates continue to rise, a home would have to come down by 10% for every 1% the mortgage rate rises to keep the same monthly payment. Which means that a $600,000 home would have to drop by $60,000 to accommodate for 1% increase in the mortgage rate in keeping the same monthly payment. And we've already seen rates rise by around 4% just this year.
When Is The Right Time?
Okay, so maybe all of these numbers make your head spin.
But here's the bottom line: you can't time the real estate market.
You won't know when home prices will hit their peak and when they're at the bottom. And you won't know exactly when mortgage rates will come down. Looking at the historical mortgage rate graph above, it took from 1973 until 1993 for the rates to be at the average of just below 8%. That's twenty years!
We bought our house in the summer of 2019, when it felt like the market was going crazy high. Inventory was low and we felt like we couldn't afford what we really wanted. But after months of looking and being patient, we finally found the house. After some tough negotiating, we still felt like we were paying more for the house than it was worth. But I can tell you, looking back now, we are so glad we bought the house and made the move. Because the market kept going up. And now we have built wealth in our home.
The Opportunity
Listen, right now there is a window of time that is a great opportunity for some people. Here's why:
First, there is less competition for houses because some people unfortunately have been priced out of being able to buy a home. So there are not as many multiple offer situations.
Secondly, home prices have dipped.
And third we're seeing sellers offering more incentives such as buying down mortgage interest rates and offering closing costs.
We're Here to Help
If you need help navigating this market and knowing how to save time and money, reach out, because that's what we're here for. Schedule a time to talk
You'll feel great about having the right information and guidance so that you can make smart decisions and have peace of mind when deciding whether to buy or sell your home.