Legendary Woodworks and Countertops, LLC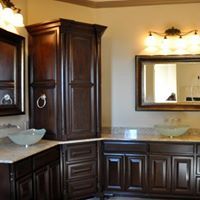 Legendary has been in business for over 10 years. The owner has been in business for himself for more than 15 years and has been in the world of cabinets and woodworking since he was a teenager.
Nothing is too big, to small or to hard. We will gladly do it all . Come by our shop or give us a call!
---
Services
Custom Cabinetry
Custom Countertops
Custom Trim
---
Social Media
https://www.facebook.com/2004United/
---
Reviews
See what people are saying.
https://www.facebook.com/pg/2004United/reviews/?ref=page_internal
---
Contact Information
Custom Cabinets, Granite, Custom Trim
12699 S Interstate 35
Valley View, Texas
Business Phone Number: (940) 726-6394
---
Hours:
Monday-Friday : 8:00 AM to 5:00 PM
Saturday : 8:00 AM to 12:00 PM
Sunday : Closed