How We ❤️ Your Listing & Get it SOLD!


Today's technology makes it easier than ever for consumers to view any listing on the market. As agents, we can enter a home into the MLS, click a button, and watch it automatically appear on Zillow, Trulia, etc.
Unfortunately, that can also make it harder for Buyers to distinguish one listing from another. After a certain point, they all tend to look the same.
We wanted Texas Home Life listed homes to stand out from the crowd, so we decided to keep pushing.

Professional Photos
If there is one thing we know for sure, it's that Buyers LOVE looking at great pictures of homes.. and lots of them! And the first showing you'll actually get is online. First impressions matter!
Every listing we take receives professional photography; that's been a standard of ours for years. We use these photos EVERYWHERE. Facebook, TexasHomeLife.com, and MLS, as well as over 300 websites.
We've partnered with a professional architectural photographer to make sure our listings have every advantage we can provide over the competition and their listing is shown in it's best light.
Property Stories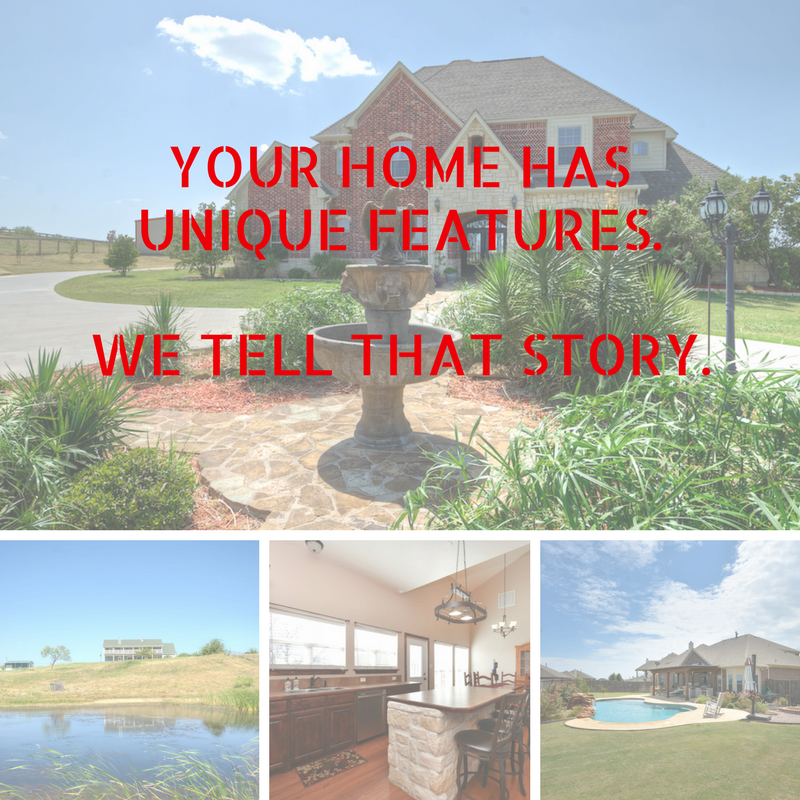 Your home is special, so the way it's presented should reflect that. There is our way and a wrong way to describe a property:
#WrongWay: You don't have a "4BD 2.5BA w/lrg yard". 👎🏼
#OurWay: Your Property has "4 Large Bedrooms - Over 1/4 Acre Lot - Pool & Spa - Perfect for Entertaining!".
Your kitchen has "Modern Designed - Gourmet Kitchen - Perfect for Large Gatherings".
When guests step into your home, they notice the "Highly Upgraded Flooring and Fixtures. Including Wood Floors - Stainless Steel Appliances - Vaulted Ceilings".
If Buyers hear your home's story, they'll fall in love with it too.
We'll tell them that story.
And we'll make sure they know what makes your home so special.
Our Website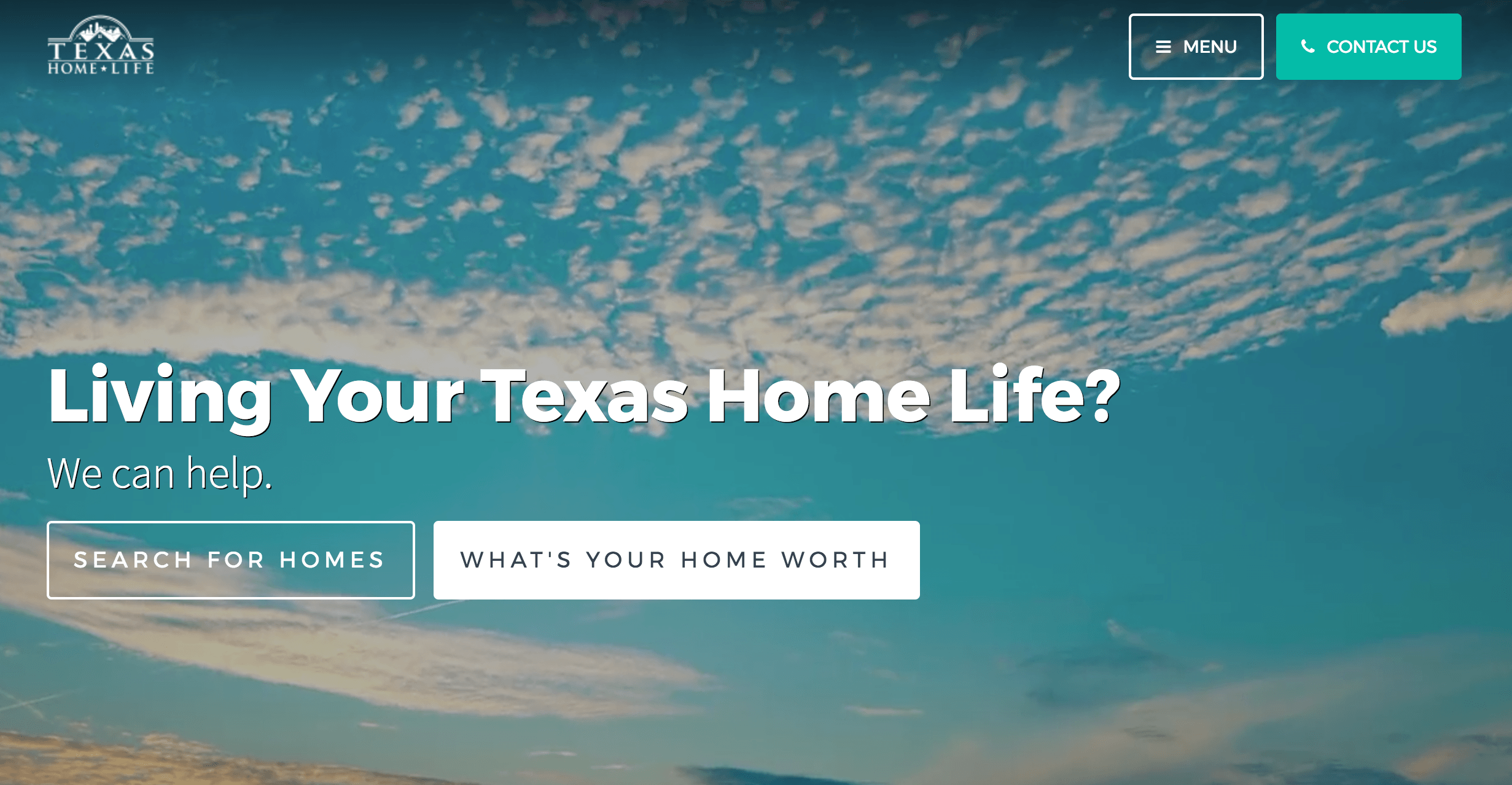 The biggest reason we're able to tell your Property Story is because we can control the presentation of it on our website.
The MLS, listing portals, and most broker sites all pretty much follow the same standard formatting. We're not given the freedom to change too much on sites we don't control.
On TexasHomeLife.com, the shackles have been released and we're free to show your home the way we envision it.
Facebook Marketing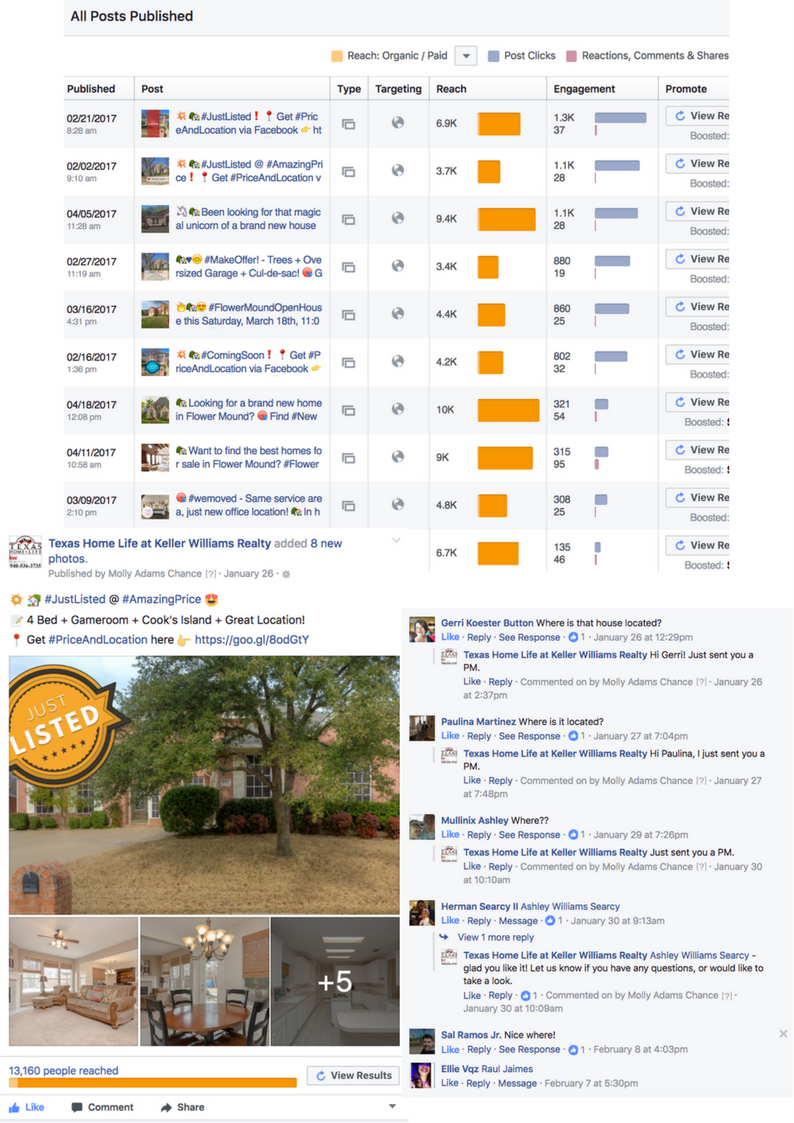 Now that we've created your amazing Property Story, how do we get Buyers to our website to see it? We employ a few different strategies, but chief among them is Facebook Marketing.
We understand people don't go to Facebook to buy a home. But we know the people who are buying homes are on Facebook.
More than once, we've heard stories like: "We weren't looking to buy a home, but we saw your listing on Facebook and realized we had to have it".
Most Realtors are on Facebook, but none of them are putting this kind of precision into a campaign. We spend hundreds of dollars a month marketing on Facebook. Most agents just promote it to to their friends once.
Come join the fun and give us a 'Like'.
Email Marketing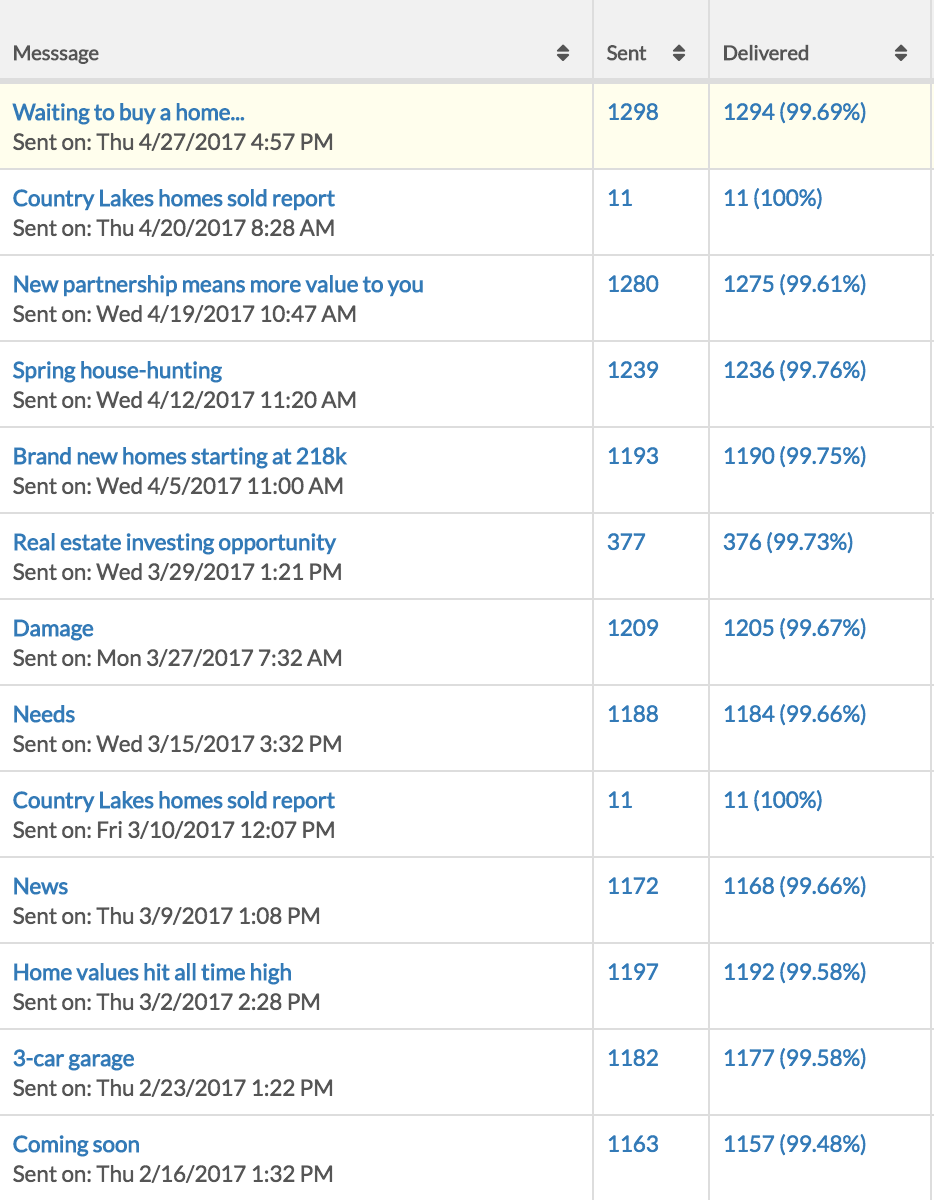 As soon as you list your house with us, we're going to blast it out to our exclusive database of buyers that nobody else has. Because every time we run one of our massive Facebook campaigns, we get a ton of potential home buyers that aren't even using Zillow or the MLS yet.
Most real estate agents, IF they do any marketing, don't do email marketing and follow-up. We leave no stone unturned.
300+ Websites
We make sure your home gets the most exposure possible. So, not only is your house shown online via the MLS, our website and Facebook - it will also be featured on over 300 websites. This includes the major real estate sites, such as Realtor.com, Zillow, and Trulia. Your house will be EVERYWHERE potential buyers would be.

Why You Should Hire Us
Besides our one-of-a-kind marketing plan, here are six more reasons smart people hire us to get their house sold:
Prospecting for Buyers - We do something most agents won't do...we actually get on the phone for 2-3 hours each day, and actively search for a buyer for your home.
Easy Exit Listing Agreement - Our goal is satisfaction. Cancel anytime.*(Excluding active negotiations & contract pending.)
Communication Guarantee - We guarantee you'll hear from us weekly. *(More frequently when necessary.)
Certified Negotiation Expert® - Bret Chance is a Certified Negotiation Expert® and trains his team to know how to negotiate for YOUR best interests. Saving you time and money.
Team of Specialists - We have an entire team of full-time Realtors and specialists who take their jobs very seriously. When you hire one of us, you get us all - for NO EXTRA FEE. *(Many teams charge an extra fee for the use of their team.)
Bulletproof Transaction - Our team looks ahead to anticipate any issues, with quick problem-solving, to make sure you get to the closing table. Did you know that there are over 20 items to negotiate, just on the contract alone - not considering the other addenda? Plus 27 different industries we work with, 100-150 phone calls and emails, then 2-3 rounds of negotiations just to ensure your home gets sold. There are a lot of details that can add up to thousands of dollars.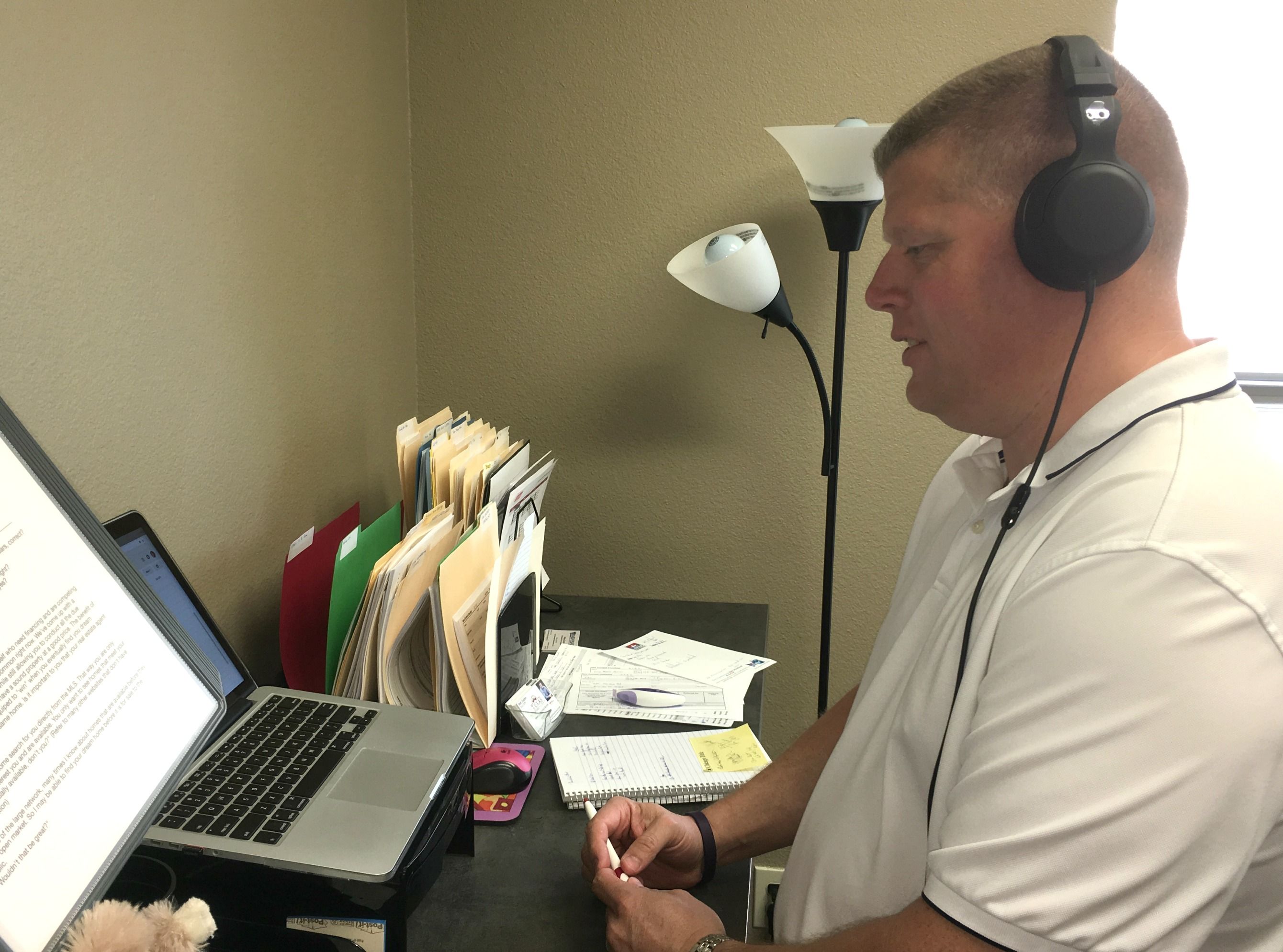 Ready to hire us to sell your house?
Call 940-536-3735