2019 Real Estate Market Forecast
Is the real estate market headed into the tank again? Is there a bubble?
The market has changed, and there are several reasons why some people think the market is headed south:
The 'heated' market of homes receiving multiple offers within the first 24-48 hours is no longer typical

Homes on average are taking longer to sell

20% of home sellers are reducing their price

The stock market has been going crazy

Negative media headlines
Those things can breed uncertainty if not understood. Join Bret and Molly Chance as they look at the facts to shed some light on the topic, and give some reassurance as to why it's not gloom and doom .
The Effects of The 2008 Recession
The recession of 2008 caused a housing shortage that we're still dealing with. The home builders greatly reduced the number of homes they were building. Real estate investors bought up the foreclosure inventory. And low interest rates of 2.5% caused homeowners to refinance and stay put. After the nation 'officially' came out of the recession in 2009, we began to see a major housing shortage across the nation. A classic case of supply and demand caused home values to increase rapidly. The rate of increase we've seen over the last several years is not sustainable for any market, and thus the cool down to a more normal and healthy real estate market.
What's Happening Now - 'Normalizing'
The new home builders are building again. It's helping to increase inventory, which is leveling out the need for more housing. However, because of the population and job growth in the DFW area, there is still a need for more housing. Based on the North Central Texas Council of Governments (NCTCOG) DFW population estimated growth for 2010-2035, it looks like we're not slowing down. Denton County has a projected growth of 59%, or a growth of 662,000-1 million plus people moving to the area. You can see how that breaks down in their most recent report from April 2018 here: https://data-nctcoggis.opendata.arcgis.com/datasets/2018-nctcog-population-estimates-publication. Much of this population growth is due to the increase in employment. According to the Bureau of Labor Statistics, the largest over-the-year employment increases occurred in Dallas-Fort Worth-Arlington, TX with +116,400. (https://www.bls.gov/news.release/metro.nr0.htm)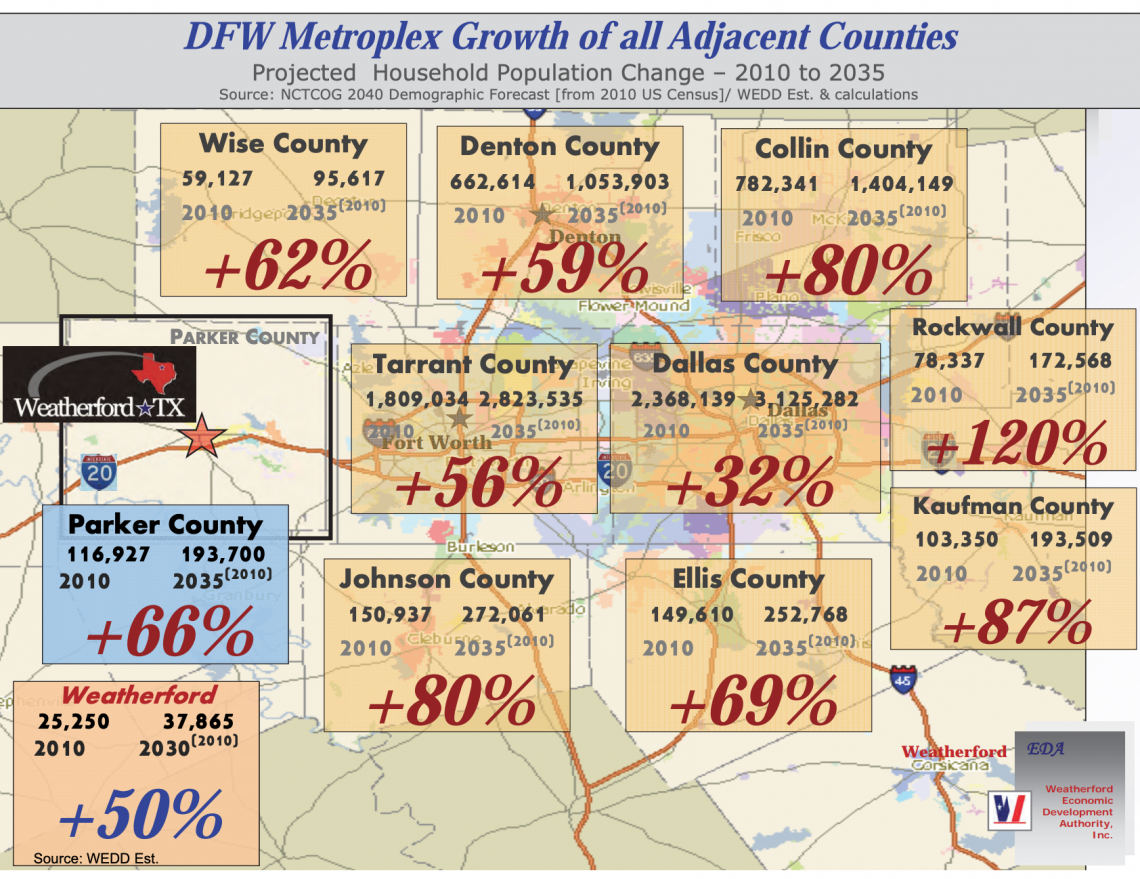 According to the forecast by Realtor.com, DFW-area home prices will grow by 4.3%. The rate of home appreciation in DFW is outpacing the nationwide home price forecast of 2.2% for 2019.
The projected interest rates vary from Fannie Mae's 5% up to the highest projected rate of 6%.
Rising home prices along with rising interest rates has an impact on the monthly payment. According to Realtor.com, "the average U.S. monthly mortgage payment has jumped 15.8%, or $223 per month, since last year." In September 2017, that number was $1,413, rising one year later to $1,636 based on a median price of $294,900.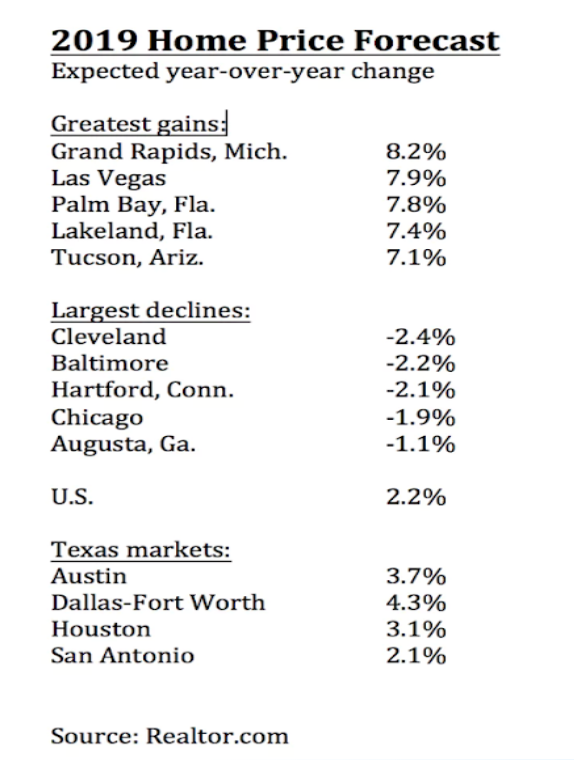 Besides a strong job market, increased population projections, increased home price projections, and steady interest rates, there is another reason we're not seeing the real estate market headed into the tank. Credit requirements to get a home loan remain strong, unlike what we experienced leading up to the recession. The majority of those buying homes now have credit scores between 620-719, along with more proof they can actually purchase a home.
The media would like for people to believe that the housing boom is coming to an end. But even the graphics some use tell a story quite the opposite. You can't get the entire story from just a snapshot, which is why we've shared information from the main areas that would predict a down-turn in the real estate market.
What This Means for You
For those wanting to sell your home, your competition is not only other pre-owned homes, but new builds. Pricing your home right at the time it goes up for sale is more critical than in the previous super-heated market. Home prices are still increasing, just not as rapidly. Be patient and prepared for possibly sitting on the market a bit longer. The homes that are priced within what other similar homes are selling for, and look like a model home will still get snatched up quickly.
For those looking to buy a home, you will have more choices between pre-owned homes and new builds. You won't see the crazy multiple offer situations as much as in the previous market. If it is a great home for a great price, it will still go quickly, so be prepared to make a legitimate offer. We're not seeing 'fire sales'. Some home sellers haven't gotten the message about the changing market and are over-priced. Make sure your agent looks at the numbers before making an offer to make sure you're getting a good deal. With interest rates and home prices expected to continually rise, it's better to make the move now rather than later. If you buy now, you'll continue to build equity over the next few years ahead.